My name is Mistress Tess,
I am an ambitious young mistress with a natural talent for the dramatic.
Dominance is in my blood, which is why you can be sure that I always have the situation under control, turn your head with my commands and create an atmosphere in which you lose yourself.
At the same time, my preference for the most diverse facets of BDSM holds the possibility of diving with me into a world of humiliation, pain and pleasure that you will never forget.
Through my unbridled imagination, I am constantly overcome by the urge to submit and I can hardly wait for the moment when you kneel before me and follow my commands.
Munich's nightlife is full of temptations and offers even the most eccentric gourmet of rare pleasures the opportunity to fulfil his or her desires. One of the most eccentric pleasures is probably the desire for submission and pain, known only to the most truly wicked of minds.
But even this desire offers a complexity of possibilities that only a small number of people can truly comprehend. One of these people is me – Domina Mistress Tess. I love all kinds of BDSM. Be it the slave or whore education of one of my toys with the cane, the worship of my perfect body wrapped in latex or the pampering of my feet, which need a little care after an extensive CBT. As a high class dominatrix I have achieved perfection in all these areas and many more, which combines with the unquenchable thirst of exercising my inclination to a synergy that no sub can resist.

But BDSM is more than pure sexuality for me. For me, BDSM means finding strength in one's own weakness. My slaves come to me, kneel before me, endure pain, disrespect and shame and yet come out of every session with me with a feeling of bliss that gives them the strength to cope with their everyday lives until they lose themselves in my being again and find bliss through me once more.
Being a Dominatrix thus means not only exercising my innate right to rule, it also means fulfilling the needs of my slaves and raising them to become willing little servants themselves, who read my every wish and command from my lips in their devotion.
I am the mistress you have always wanted. The dominatrix you obey even before she says the first word. You will find me in the most noble locations and studios in Munich. Whether you are a beginner or already deeply immersed in the world of BDSM and have experience with complete submission by a dominatrix – with me you will experience things you have never experienced before.
You will feel a sense of submission that is unfamiliar to you and realise that it is what you have always been missing. I am not just any dominatrix, I am THE dominatrix. And soon I will be your dominatrix, even if you may not know it yet.
Come to me in Munich and submit!
Domina Mistress Tess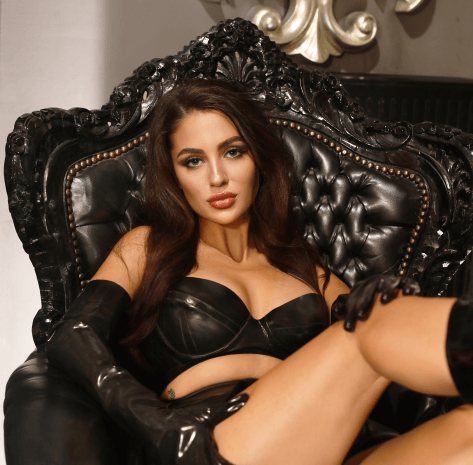 Appointments and enquiries exclusively by message WhatsApp or email.
Phone: +49 152 24728145
Email: mistresstess@web.de